Armed thieves hold up bookmaker Ladbrokes in Edinburgh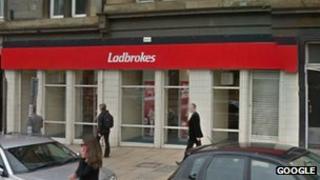 The police are appealing for witnesses following an armed robbery at an Edinburgh bookmaker.
The incident happened at about 18:35 on Thursday at Ladbrokes on Crichton Place.
Two thieves entered the shop and demanded the 23-year-old worker hand over the shop's money.
One of the men placed a plastic bag on the counter while the other stood back holding a long object that was concealed in a black bag.
There were four customers in the shop at the time.
A two-figure sum of cash was put into a bag and both thieves made off onto Iona Street, before heading towards Albert Street where they were lost to sight.
Maroon scarf
Police are now urging anyone who can help with their inquiries to come forward.
The first thief is white, 5ft 11ins tall and of heavy build. He was wearing a dark blue hat, blue hooded top with white laces and zip, a dark-coloured body warmer with a light-grey hood, dark jeans, dark footwear and was carrying a white plastic bag. His face was covered with a maroon scarf.
The second thief is white, 5ft 8ins tall and of slim build. He was wearing an olive green Ralph Lauren baseball cap, light-grey hooded top with small a small triangular emblem on the left side, blue jeans, dark footwear and carrying the long black bag. His face was covered with a striped scarf.
Det Sgt Lyle Shaw, of Police Scotland, said: "Neither the member of staff, nor the customers inside the store, can confirm what was within the black bag.
"However, we believe the suspects wanted it to appear they had a firearm.
"We are conducting local enquiries in the area to identify these men and anyone who recognises their description is asked to contact police immediately.
"Similarly, anyone who was in or around Crichton Place yesterday evening and remembers seeing anything suspicious is also urged to get in touch."