MSP Marco Biagi calls for ban on old buses in central Edinburgh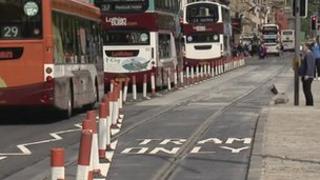 An MSP has called for a ban on old buses in central Edinburgh saying there is no place "for the lingering antiques that just belch out noxious fumes".
SNP MSP Marco Biagi, said only the environmentally-cleanest buses should be allowed into the city centre.
In April an additional six miles of Edinburgh streets were designated as officially polluted.
Edinburgh City Council said MSPs needed to press the Scottish government for funding for newer vehicles.
Mr Biagi said that according to latest figures, 55% of Lothian Buses and just 13% of the current First Bus fleet would meet the standard to be allowed into central Oxford when that city's Low Emission Zone (LEZ) comes into effect next year.
Other cities with LEZs include London and Norwich.
Transport strategy
Mr Biagi said he had written to Edinburgh City Council to urge the city to take an Oxford-style approach and set a deadline where all buses need to be in the cleanest "Euro 4" or "Euro 5" categories.
He said: "There must be no place in our city for the lingering antiques that just belch out noxious fumes.
"It's time to lay down the law and take action for city centre residents, pedestrians and cyclists. The air we breathe should sustain us, not harm us."
Lesley Hinds, Edinburgh City Council's's transport convener, said: "As with many major cities, air quality is a challenge we've been trying to tackle and we raised it specifically in the recent public consultations on our local transport strategy.
"Everyone, including Mr Biagi, is welcome to provide their views to our transport forum, but I'd also encourage MSPs to press the Scottish government for continued funding for newer vehicles.
"Creating a low emission zone is one of the potential solutions we're looking at and a committee report on this, and other options, is expected in August."
'Extremely wasteful'
Dr Steve Johnson, Lothian Buses' environmental manager, said: "The company recognises that withdrawing non-life expired buses, at typically six to nine years old, is extremely wasteful of natural resources, preferring instead to pioneer the use of exhaust retro-fitment technology to bring these older buses up to the emissions standard of a brand new bus.
"These systems reduce key air pollutants by 70-99% and have been fitted to 45 of the company's buses to date, with evaluations currently under way to see if the system is suitable for fitting to its extensive double-decker fleet."
He added: "Sixty per cent of our bus fleet now meets the equivalent Oxford low emission zone entrance standard and we continue to invest in our fleet to push this figure higher as we are fully committed to significantly cutting our contribution to Edinburgh's wider traffic-related air pollution issues."
A First Spokesman: "Bus travel is part of the solution to climate change.
"Removing buses from Edinburgh city centre will only encourage bus passengers into private cars, which will inevitably lead to greater pollution elsewhere in the city and more congestion.
"First Scotland East would welcome discussions to look at how we might maximise bus travel so that we can better address some of the issues facing the city centre.
"I can confirm we do not operate any buses with EURO 1 or EURO 2 engines into the city centre."