TB treatment pioneer Prof Jimmy Williamson dies aged 92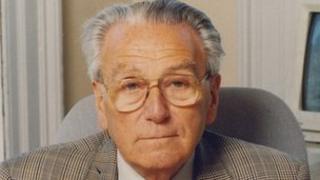 The last remaining member of the Scottish team that pioneered a cure for tuberculosis has died at the age of 92.
Prof Jimmy Williamson was one of a group of scientists which developed a treatment for TB in the 1950s by using a combination of three antibiotics.
As a junior doctor, working in Hairmyres Hospital in East Kilbride, he helped treat author George Orwell's TB.
He went on to become the first professor of geriatric medicine at Edinburgh University.
Prof Williamson died peacefully in hospital in Edinburgh on 29 June, and is survived by his wife and five children.
Between 1954 and 1957, Prof Williamson was one of a team of scientists at Edinburgh University that managed to halve the number of TB cases in the capital by using a combination of three antibiotics.
Prof Williamson's contribution was to take x-ray machines into the tenements of the city - taking care to the people.
And he remained a medical pioneer and was described by one colleague as the founding father of British geriatric medicine, revolutionising the care of older people.