Police probe after 12 dead bats found in St Andrews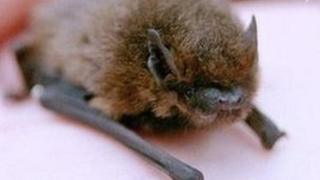 A police investigation has been launched after 12 bats were found dead in St Andrews.
The bodies of the pipistrelle bats were discovered at the foot of a tree on the Eden Estuary, at Guardbridge, near the former Guardbridge Paper Mill.
A post-mortem examination has revealed that they suffered "significant trauma" at the time of their deaths.
Police have appealed for information to discover how the bats died.
It is thought they were killed on or around Friday 28 June.
PC Susan Martin, of Police Scotland, said: "We can confirm that, following a post-mortem examination at a laboratory in Cumbria, we now know that the animals had some significant trauma at the time of their deaths."
Open mind
She added: "We do not know if people have discovered the bat roost and interfered with it or if someone in the area has found them in their home and decided to dispose of them.
"We have an open mind to any scenario."
The police are being assisted in the probe by the divisional wildlife crime co-ordinator, Scottish Natural Heritage and the Bat Conservation Trust.
Pete Charleston, investigations officer for Bat Conservation Trust, said: "Bat roosts are incredibly important sites for conservation. At this time of year bats are at their most sensitive, mother bats will be raising their young in maternity roosts.
"If a mother bat is killed, then their baby will die too as a baby bat depends on its mother for milk. It is very important for bat conservation that bat roosts are not disturbed."
All bats and their roosts are protected by law.
Is an offence to intentionally or deliberately kill, injure or capture a bat, deliberately disturb a bat (whether in a roost or not), damage or destroy or obstruct access to a bat roost.
It is also a legal requirement to consult Scottish Natural Heritage before anything is done that might affect bats or their roosts.