Crews tackle fire at Tentsmuir Forest in Fife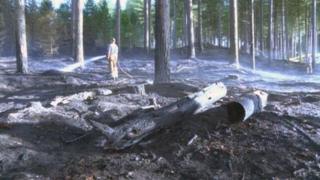 A grass fire in the Tentsmuir Forest area in north east Fife has been put out.
About 40 firefighters tackled the blaze on Thursday evening.
Police had warned members of the public, including walkers and cyclists, to stay way from the area while the blaze was brought under control.
Fire crews left the scene on Friday morning. Officials from the Forestry Commission remain on site and are monitoring the situation.
The fire service has urged the public to remain vigilant during the current dry conditions to prevent this type of fire occurring.
The exact cause of the fire is not yet known.
A Scottish Fire and Rescue spokesman said: "The advice to people is to extinguish cigarettes properly and never to throw them on the ground or out of car windows.
"They should also avoid making open fires in the countryside and never leave bottles in woodland, as sunlight passing through glass can start fires."