Probe after Edinburgh care home death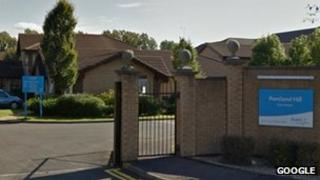 Police in Edinburgh are investigating the sudden death of a resident at a private Bupa care home in the city.
It comes as the Pentland Hill nursing home is under review by the Care Inspectorate after a significant number of complaints within the last year.
A 67-year-old woman died at the home earlier this week.
The circumstances are being examined by police and the city council council, as well as care inspectors. Bupa said the investigation was routine.
The healthcare company said it had an action plan in place to address the issues raised by the Care Inspectorate.
'Absolute priority'
The Pentland Hill home is currently going through an unannounced inspection.
Three complaints upheld against it in the last year raised concerns about issues including residents access to health care and poor communication from staff.
Bupa Care Homes director for Scotland, Kirsty Dace, said: "The health and wellbeing of our residents is an absolute priority for us and we have a full action plan in place to address comments made by the Care Inspectorate during its inspection.
"In regards to the unexpected death of one of our residents, it is routine that any circumstance such as this is reported to the Care Inspectorate and police."
A Care Inspectorate spokesman said: "We are currently inspecting Pentland Hill and as soon as our report is ready, it will published, along with gradings, on our website.
"Care homes must notify us whenever a serious accident or issue occurs.
"During the inspection, we became aware of a number of events which should have been notified to us and had not been."
He added: "Separately, we have received and are currently investigating a number of complaints about Pentland Hill.
"The health, safety and wellbeing of the residents in the home is of paramount importance and we urge anyone with concerns to call the Care Inspectorate."