Edinburgh trams security guard attacked by two men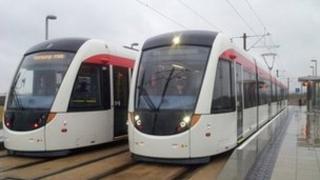 A security guard assigned to the Edinburgh trams project has been assaulted.
The man was working at the tram line site in the city's Stenhouse Drive at 14:35 on Sunday.
The 29-year-old victim was approached by two men and punched in the face, knocking his glasses off.
The men made off towards Carrick Knowe before the guard contacted police. Officers have appealed for witnesses to contact them.
The suspects were described as white and between 18 and 20-years-old.
One was about 6ft tall and wearing a light blue tracksuit.
The second man was of average height with light-brown hair and wearing a light-coloured tracksuit and was riding a BMX bike.
A Police Scotland spokesman said: "The victim was not seriously injured but was understandably shaken by this random and unprovoked assault."