MSP Bill Walker trial told of wedding picture 'bruise'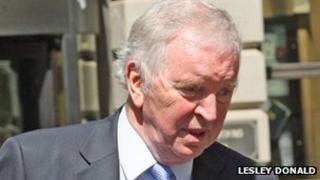 An MSP's former wife has told a court that bruising was visible on her face in her wedding photograph.
Bill Walker, the MSP for Dunfermline, denies 23 charges of assault against four women over a 28 year period.
Maureen Traquair told Edinburgh Sheriff Court she could see bruising on her left cheek bone in the 1967 picture.
Mrs Traquair was recalled to give more evidence after the photo was found in her mother's belongings.
She had not seen any of her wedding photographs since she threw them out after her divorce from Mr Walker in 1970.
Mrs Traquair, who was a professional photographer, was asked by the defence if the mark was not "simply a shadow".
She said if the defence knew anything about photography there would also have been a shadow on Mr Walker's face.
Asked if the mark was a figment of her imagination, she replied other people who looked at the photograph had seen it as well.
Mrs Traquair had previously told the court Mr Walker had given her a black eye two weeks before her wedding in January 1967.
The Crown has now closed its case in the trial.
Mr Walker, 71, from Alloa, who sits at Holyrood as an independent after losing the SNP whip, is accused of physically assaulting three of his former wives and his stepdaughter.
He faces 23 charges of physical assault and one of breach of the peace.
The politician denies all of the charges against him and has lodged a special defence of self defence for three of the charges.