MSP Bill Walker tells court wife attacked him with dagger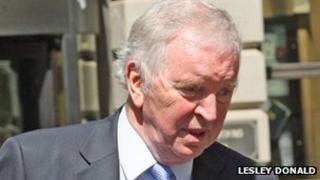 An MSP accused of a series of assaults against four women has told a court his second wife attacked him with a dagger.
Bill Walker said he was "in a state of upset" after Anne Gruber came at him with a four to six inch-long blade.
He described how he wrestled her to the ground and prised the blade out of her hand during the 1984 incident in which he said his tie was cut.
Mr Walker, 71, is on trial accused of attacks against three former wives and a step-daughter between 1967 and 1995.
He denies 23 charges of assault and one breach of the peace.
"I should have contacted the police," the independent member for Dunfermline told Edinburgh Sheriff Court.
Pointed blade
Mr Walker, from Alloa, is alleged to have assaulted Mrs Gruber 15 times at various addresses in Edinburgh and Midlothian between 1978 and 1984.
Giving evidence for a second day at his trial before Sheriff Katherine Mackie, Walker outlined various stages in his relationship with Mrs Gruber, including several reconciliations and attempted reconciliations between them in the early to mid-1980s.
He told the court how the marriage broke down again in November 1984 "after one or two incidents".
Questioned about those incidents, Walker told the court: "The most serious one, which Anne alluded to in an affidavit she submitted, was that she attacked me with a dagger."
It was an ornamental, stainless-steel object with a pointed blade four to six inches-long, which could have been used as a paper knife, and had been kept in a kitchen display cabinet, he said.
'Binned dagger'
Recalling the alleged incident, he said Mrs Gruber "burst through" some double doors from the kitchen into the living room at their home and was "holding this dagger in her left hand".
He said: "She walked towards me with the dagger at waist level, pointing it at me and advancing slowly towards me," adding that she was telling him: "Keep away from me."
He believed his wife had been drinking, Walker told the court.
He was "caught" in the corner of the room but managed to grab her wrists, he said. The tip of his tie had been cut, the court heard.
"I managed to wrestle her to the floor. I don't know whether I actually slapped her," the MSP said.
Mr Walker then did "one of the most stupid things in my life", and binned the dagger and tie.