Two arrests in Glenrothes crime gang crackdown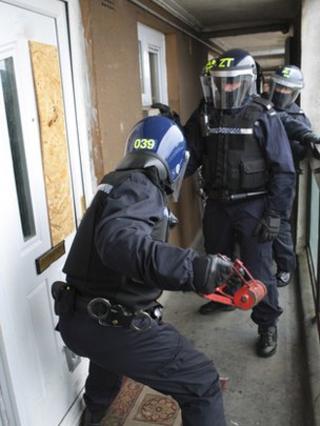 Two men have been arrested as part of a police operation targeting a violent drugs gang operating in Glenrothes.
The pair, aged 32 and 42, were detained after officers carried out raids in the Macedonia and Glenwood Centre areas of the town on Tuesday.
Police launched Operation Worship after several months of investigations.
They said the raids had resulted in the capture of "key lieutenants" from a serious and organised crime group.
One man was expected to appear at Kirkcaldy Sheriff Court in connection with alleged offences under the Misuse of Drugs Act.
Police said Operation Worship was ongoing.
Chf Insp Derek McEwan said: "For too long the residents and businesses of Macedonia and the Glenwood Centre areas have felt intimidated by the activities of a group of individuals intent on bringing misery to the local community through Class A drug supply, violence and anti social behaviour.
"For several months now we have, in a co-ordinated manner, investigated a group of individuals intent on criminality within these communities.
"This operation, which is only the start of the proactive work we are going to be doing in this area, has led to a number of key lieutenants from the group being captured and reported for being concerned in supply of controlled drugs."
Police said the operation also targeted people involved in domestic and sexual abuse, as well as serious violence and dishonesty.
Ch Insp Derek McEwan added: "Our investigation has already seen significant success and our activities today should reinforce to both the criminals and the vast majority of decent members of the public that any level of criminality will not be tolerated."