Motorcyclist dies after Knockhill Racing Circuit race crash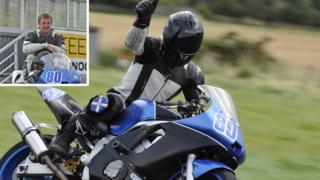 A motorcyclist has died after crashing during a race at the Knockhill circuit in Fife.
Matthew Polanski, 30, died in hospital on Monday after being injured in an accident the previous day.
The father-of-one's family paid tribute to him, saying he "lived every day to the full".
In an unrelated incident, a man is in a critical condition following a motorcycle accident at the same circuit on Tuesday.
'Endless energy'
Mr Polanski's family said: "Matt has left behind his wife Jill and daughter Bethany and a large extended family, many of whom shared his passion for motorcycles.
"His family and friends are devastated at the loss of Matthew who lived every day to the full.
"Never one to take life too seriously, Matt had endless energy and a determination to succeed in everything he did.
"From the age of 20 he developed a successful business whilst building on his loving family life.
"Matthew loved being outdoors and his energy and enthusiasm were well known to all that knew him and he got great satisfaction from sharing this with others.
"Matthew's desire for others to enjoy life continues through the gift of his organs to others. A typical, thoughtful and selfless act".
Meanwhile, the man injured in Tuesday's crash at the Knockhill circuit was taken by air ambulance to Ninewells Hospital in Dundee.
The accident happened on the circuit and did not involve any other vehicle.
Weather conditions
Jillian Shedden, Knockhill's managing director, said: "Knockhill Racing Circuit can confirm that a motor cycle racer succumbed to his injuries after a racing accident on Sunday and a second rider was involved in a track day incident on Tuesday and is currently undergoing treatment.
"On both occasions, the full and required level of medical services were in immediate attendance and administered emergency treatment at the scene of each incident, with the first rider being transferred by road ambulance, the second was transferred by air ambulance.
"It is only the second time in 25 years that a patient has been transferred by air.
"The incident on Tuesday happened at a different corner and no other rider was involved.
"Investigations are on-going, and as weather conditions were perfect on both occasions, and there were no apparent mechanical issues with either bike, and the track was in full licenced condition, the management at Knockhill do not foresee any changes to procedures as a result of these two unfortunate accidents."