Edinburgh 'most expensive place to stay'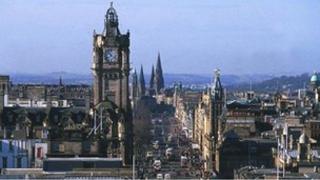 Edinburgh has been found to be the most expensive place to stay in the UK, according to a TripAdvisor survey.
A break for two in the city, including a hotel stay, pre-dinner Martinis, an evening meal out and taxi rides costs £298.46.
A four-star hotel in the capital is £207.51, compared with two nights in a similar Glasgow hotel which is £108.25 per night.
It found Glasgow to be the 9th cheapest in the UK for a short stay (£194.74).
James Kay, TripAdvisor spokesman, said: "With the great summer we've been enjoying, staycations are sure to be a popular choice for UK travellers over the August bank holiday, but where you go will have a big impact on how much you're likely to spend.
"Generally, the further north you go the less you'll need to fork out for hotels and dinner, but there are some notable exceptions to that rule, so make sure you plan ahead."