Jumping tribesmen and Sufi singers at Edinburgh Mela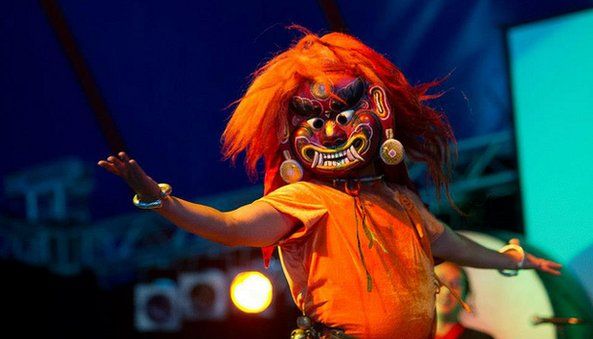 Organisers have reported record advance ticket sales for the annual Mela festival, which takes place in Edinburgh's Leith Links this weekend.
Headlining the event are 90s dance act The Orb, who are playing their only UK set this year outside of Glastonbury.
Other acts include jumping Maasai tribesmen, an Afro-Cuban band and a celebration of 100 years of Bollywood.
Up to 30,000 visitors are expected at the Mela, which marks the end of the August festival season.
Now in its 19th year, the festival programme also includes a Mix Stage featuring urban acts, as well as the annual fashion show.
Organisers have announced their aim to make 2013 a "zero-waste" event. They have banned all noncompostable food packaging from its site and are encouraging people to travel to the site by bicycle or foot.
Star Crossed is one of two major dance commissions at the Mela's World Dance Feste. It tells the story of Romeo and Juliet through fighting Tango and Capoeria clans.
It is being performed by professional dancers from Spain, Argentina, Brazil and Scotland, and was choreographed by Laura Macias of Spanish dance company Pasados.
She said: "Both are dances of the earth, so they have a lot of history in common, but they have very little to do with each other when you come to speak about the dance itself.
"At the beginning we thought it wasn't going to quite work, but they've fused. I think we are inventing a new dance style. It's beautiful."
Arts funding body Creative Scotland announced earlier this year that there would be changes to the way the Mela was regularly funded. It is one of 49 groups that will have to reapply for grants.
But the Mela's director Chris Purnell said that despite possible changes to funding, he is optimistic about the event's future.
"Bodies that fund the Mela have recognised that they want the event to continue and they're onboard with us in our mission," he said.
"But we have to be realistic. We are out there looking for a variety and a combination of funding streams in order that the event is not just reliant on public funding.
"We're the people's festival. We're the end of the season party. People come down here from all over the city and Scotland, and dare I say it, south of the border."
Related Internet Links
The BBC is not responsible for the content of external sites.