Pilot whale stranded at Edinburgh beach dies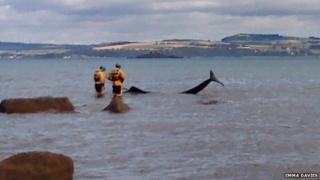 A pilot whale which was stranded in the Firth of Forth to the north of Edinburgh has died.
A team from the British Divers Marine Rescue had spent the day in the shallows off Silverknowes trying to save the animal.
It is thought it suffered the equivalent of a stroke.
The coastguard was alerted at about 09:30 by a member of the public who spotted the animal in distress.
Experts believe the whale swam into the shore after becoming disorientated.
It is then thought the mammal's own body weight crushed one of its lungs, disrupting its equilibrium and leaving it swimming around in circles.
'Underlying cause'
The team managed to refloat the whale at about 13:45 but it swam in the wrong direction back on to the beach.
A crowd of about 100 people had gathered to watch the rescue attempt involving a dozen experts.
A spokeswoman for the British Divers Marine Life Rescue said: "A vet assessed it and the decision was made that there was probably an underlying cause for it to be there. It wasn't showing any signs of improvement."
It was decided that the pilot whale, described as a sub adult, should be euthanised but while the drugs were being prepared the animal died naturally.
The body of the whale will be taken to Inverness where a full post-mortem examination will be carried out.