'Unique' Fife rescue dog Driesh honoured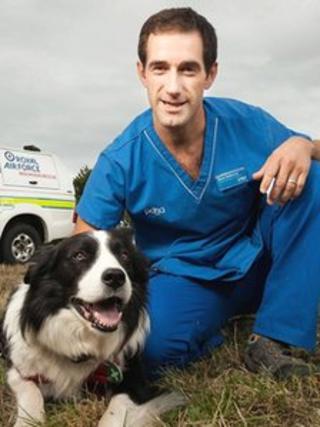 A search and rescue dog in Fife who helps save lives on Scotland's mountains has been honoured for his work.
The collie, named Driesh, has taken part in hundreds of rescue operations. He received an award from veterinary charity PDSA.
Driesh, from St Andrews, has been credited with saving at least 10 lives.
He works with his handler from the Search and Rescue Dog Association Scotland to find missing people.
The eight-year-old animal is one of an elite team of dogs trained to be winched by helicopter during rescues.
Search dogs help locate missing people using their acute sense of smell. They follow human scent in the air and alert their handlers when they make a find.
The dogs can cover large areas of ground and perform in all weathers and in the dark.
Devoted dogs
Handler Rodney Stoddart, 58, attended a ceremony at RAF Leuchars on Friday where Driesh was honoured by the PDSA's Animal Bravery Awards programme.
Mr Stoddart said: "Driesh is one of a team of over 20 devoted dogs here at Sarda.
"Last year alone their special skills were used to assist with around 50 searches, resulting in people being found alive and reunited with their families.
"Driesh's PDSA commendation award is a fantastic honour."
He added: "I'm so incredibly proud of him and his amazing achievements.
"His presentation highlights the essential, lifesaving work all our dogs, and search and rescue dogs across the world, undertake every day."
PDSA vet Stuart McMorrow, based at the charity's Edinburgh pet hospital, said: "Driesh's outstanding life-saving record and lengthy career make him a very worthy recipient of the PDSA commendation.
"His unique dedication and skills make him an invaluable member of his team and show the vital roles animals play within society. I'm honoured to present him with his award."