'Record-breaking' visitor summer, says Historic Scotland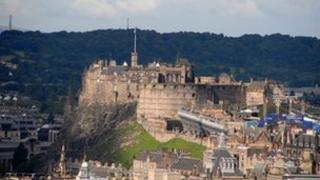 Scotland's visitor attractions enjoyed a "record-breaking" summer, it has been revealed.
Historic Scotland reported 1,692,611 visitors, an increase of 14.8% on the same period last year.
Among the visitor attraction operator's 78 ticketed venues, records were broken at "flagship" site Edinburgh Castle - up 26% on 2012 for the period June to August.
August saw 229,940 visitors at the castle, more than any month ever.
Other records were made at Linlithgow Palace and St Andrews Castle.
'Surpassed all expectations'
Stephen Duncan, director of commercial and tourism for Historic Scotland, said: "Last year saw a flattening out of visitors due to a combination of severe weather and displacement of the travel trade.
"We had always expected 2013 to see a return to previous levels, but the summer performance has surpassed all expectations.
"We've broken a number of records - seeing the highest ever visitor numbers for July and August on record for Edinburgh Castle - and breaking the quarter of the million mark for the first time in one month."
He added: "As an organisation we are continuing to evolve our offering to visitors."
Culture Secretary Fiona Hyslop said: "These figures illustrate the important role that heritage plays for modern day Scotland.
"The benefits are many, in terms of highlighting our diverse culture both at home and abroad, but also in terms of supporting and driving economic growth."