Edinburgh Zoo still hopeful over panda birth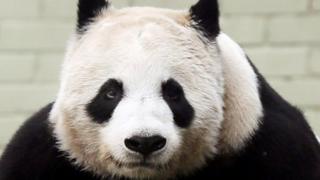 Edinburgh Zoo has said it is still hopeful that its female panda could give birth to a cub.
Tuesday sees the end of a two week window where it had been expected that Tian Tian would deliver a cub or cubs.
However, staff said the female panda's behaviour and physiology appeared to be "complicated" and it could be another fortnight before she gave birth - if she was still pregnant.
They said they would continue to test her hormone levels throughout the week.
Zookeepers said they were confident Tian Tian did conceive, but hormone analysis was unclear about whether she was still carrying a cub.
A spokeswoman for the zoo said: "In terms of Tian Tian's possible pregnancy, we're not out of the game yet although she's keeping us on our toes.
"Her hormones are following an atypical pattern, with lots of rises and dips, which make timings much harder to predict.
"We are continually analysing hormone and protein samples and, based on the latest results, our external experts now believe Tian Tian may have experienced her secondary progesterone spike two weeks later than the results previously available suggested."
She added: "Predicting pregnancy in giant pandas isn't straight forward and we're all rapidly learning that Tian Tian is a panda whose behaviour and physiology appears to be more complicated than most!"
She said staff would continue to review results with international colleagues throughout the course of this week.
Panda experts will be in Edinburgh this week for the zoo's Giant Panda Research Symposium, which begins on Tuesday.