Seven hurt as bus hits cottage after car collision in Dunbar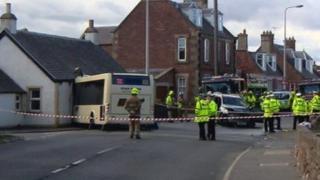 Seven people have been injured after a bus crashed into a cottage following a collision with a car in East Lothian.
The incident took place on Edinburgh Road in Dunbar at 10:15.
Building control officers are assessing the condition of the unoccupied cottage, as the bus is currently holding up the building's roof.
Several roads have been closed, with diversions put in place. Drivers have been advised to avoid the area.
The collision involved a single-decker bus and a Vauxhall Antara car in the Belhaven area of Dunbar.
The number 120 bus, which was being run by Eve Coaches on behalf of the council, had been travelling from Dunbar to North Berwick.
After the collision the bus veered into the front of the single storey detached cottage, which was being renovated. The bus driver was trapped in his vehicle.
Firefighters had to cut the side of the bus to free the 15 to 20 passengers who were on board.
One passenger, the bus driver and the car driver were described as being in a serious condition, but their injuries were not thought to be life threatening.
The bus driver, 40, suffered head injuries and the car driver had to be cut from his vehicle.
A further four people suffered various injuries and were taken to Edinburgh Royal Infirmary for treatment.
The Scottish Fire and Rescue Service said that on arrival crews found the car in the middle of the road with a man and a woman, both 65, suffering from possible chest injuries.
Gary Scougall, Eve Coaches' managing director, told the BBC Scotland news website that he was on the scene in 12 minutes.
He said: "We have a tracking system on all our buses, which identifies when one of our vehicles has used emergency braking or swerved.
"It flagged up on my computer that an emergency braking procedure had been used so I was able to go to the scene straight away.
"Nurses from a nearby elderly care facility played a major part in calming the situation down until the emergency services arrived and so I would like to extend my thanks and appreciation to them.
"I was also able to speak to our driver, who has head and leg injuries, who was very concerned for his passengers.
"He is a lovely guy who conducted himself in a very professional manner under duress. All credit to him for remaining calm and for acting in such a professional manner.
"Road accidents are always devastating for the people who are injured and for those who sustain an experience which will stay with them for their life."
'Significant disruption'
The Mercedes solo bus has seatbelts for all of its 27 seats. Mr Scougall said only passengers who had not been wearing seatbelts were injured.
Andy Amour, of Police Scotland, said the incident had caused "significant disruption" in the area.
"We are awaiting further confirmation as to the nature of the injuries sustained by those involved," he said.
"Our inquiries into exactly what happened are continuing and we are keen to speak with other motorists or members of the public who were in Edinburgh Road and witnessed the collision.
"Similarly, anyone with any further information relevant to this incident is also asked to contact police immediately."