Sewage leak closes Edinburgh Royal Infirmary's pharmacy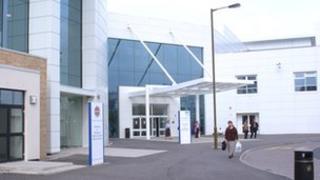 The pharmacy at Edinburgh Royal Infirmary has been closed after effluent flooded an area of the building.
The drainage leak happened just before 11:00 on Wednesday. Firefighters were called to changing rooms on the ground floor beside the hospital's aseptic unit.
An unknown chemical in the effluent has now been found to be safe.
Medicine is being brought in from the Western General Hospital.
A clean up operation is under way at the Royal Infirmary.
Sterile environment
George Curley, NHS Lothian's director of operations, said: "Our private sector partners Consort are working with an external contractor to repair a drain under an area of the Royal Infirmary.
"The problem with the drain has caused effluent to flood a staff changing area within the hospital adjacent to the pharmacy.
"Infection control measures have been introduced and the aseptic unit, which provides a sterile environment for the preparation of certain medicines, has been closed until the problem has been fixed and the area fully cleaned.
"As a precautionary measure, the Fire and Rescue Service were asked to investigate an unknown chemical in the effluent, which was subsequently found to be safe.
"Contingency plans are in place to provide aseptic pharmacy services from other hospital sites."