Thomas Brogan admits murdering Georgina Barnett in Kirkcaldy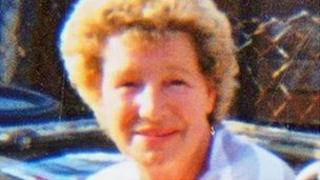 A 90-year-old woman was murdered in her own home by a drunk man who became angry that his mobile phone was not working, a court has heard.
Thomas Brogan, 46, attacked Georgina Barnett after turning up at the house in Kirkcaldy where she lived alone.
Mrs Barnett, who was 4ft 11in tall, died in hospital five days later.
Brogan was remanded in custody at the High Court in Edinburgh after admitting murdering Mrs Barnett. He will be sentenced later this month.
Police who were called to the scene of the assault in Ramsay Road found the victim on the living room floor with serious facial injuries and blood on a wall behind her. She repeatedly asked officers: "Why was he hitting me?"
Before she died, osteoporosis sufferer Mrs Barnett - who was known as Doddy - told detectives she did not know what prompted the attack, but said Brogan had come to her house on 25 June this year "looking for the boy next door".
She said he was drunk and continued drinking at the house. He was angry and annoyed about his mobile phone, Mrs Barnett had said.
Advocate depute Leanne Cross told the court: "She expressed disbelief that the accused would do that to her 'just because of that SIM card'."
Mrs Barnett had earlier told hospital staff at the Victoria Hospital in Kirkcaldy that Brogan had beaten her up and was angry.
The advocate depute told the court: "Mrs Barnett's family are utterly devastated by their loss. They are finding it difficult to come to terms with the death of Mrs Barnett and the manner of it."
Mrs Barnett suffered brain injury, bruising and cuts and 11 fractured ribs and sternum.
She said all of the injuries, apart from a laceration to the head, were capable of being caused by a punch with a clenched fist.
Crashing noise
Ms Cross said: "She suffered from osteoporosis due to her age and all of the bones throughout her body were thinner and more brittle due to this condition."
She said the murder victim, who was a widow, was "well known and well liked in the local area".
"She was physically rather frail but mentally well and alert and she managed to live independently, cooking and cleaning for herself, but with support from family and friends as she was unable to walk far unaided," said the advocate depute.
Brogan was known to her through a neighbour who lived across the hall from Mrs Barnett's flat. He and the neighbour were "drinking associates". Brogan would sometimes visit Mrs Barnett with the neighbour.
The advocate depute said: "The motive for the attack is unknown, although in the hours preceding the attack the accused appears to have been angry at his associate Bryan Hughes in connection with a mobile phone."
The neighbours later heard sounds coming from Mrs Barnett's flat, including a loud crashing noise. Brogan was heard shouting: "Don't lie to me, I'll kill you."
A neighbour had assumed Brogan had been fighting with Mr Hughes in Mrs Barnett's flat, but then heard Mrs Barnett's voice pleading: "Tam, stop please. please stop."
When police arrived they found Brogan with his hands covered in blood shouting in "an unintelligible fashion".
A coffee table was overturned, a lamp was on the floor, plates were broken and items strewn around the room.
When Brogan was taken to Dunfermline police station he said: "I done it. I done everything."
Defence counsel Mark Stewart QC said Brogan wished publicly to apologise to all those affected.
He said Brogan had described his victim as "a good lady" and found his behaviour on the night of the attack "entirely incomprehensible".
Brogan, who has previous convictions including possession of heroin and an offensive weapon, will be sentenced on 30 October after background reports have been prepared.
Mrs Barnett's nephew Thomas Johnstone, 62, of Kirkcaldy, welcomed Brogan's decision to plead guilty.
He added: "We're glad. We're happy that he has pleaded guilty to it and it's a relief to us that we don't have to go through a trial and hopefully he gets a just sentence, one that he really deserves.
"She was a very sprightly 90 year old. She would do everything in her house by herself. She didn't rely upon anybody - the only thing she took from the government was her pension.
"I was at her hospital bedside every night she was in hospital - from the Tuesday to the Sunday morning. When she died, I was there. Her injuries were horrific."