Greyfriars Bobby's nose job: Police launch investigation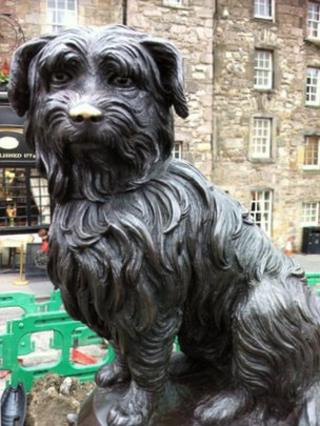 Police have launched an investigation into the vandalism of Edinburgh statue Greyfriars Bobby after repair work to its nose was removed.
The statue of the world famous dog underwent restoration work on Tuesday to turn his shiny nose back to its original black.
However, less than 48 hours later, his nose was shiny again.
Police said an abrasive material had been "intentionally used" on the nose, stripping the repaired area.
The statue, located close to George IV bridge in the city's Old Town, is popular with tourists, many of whom have taken to rubbing the Skye Terrier's nose for luck.
Abrasive material
Edinburgh City Council confirmed it called the police after experts said the repair paint used should have lasted several years.
Police Scotland said the statue was damaged sometime between 13:00 on Tuesday and 17:00 on Wednesday.
The estimated cost of the damage is believed to be between £200 and £300.
Officers are conducting inquiries and urged witnesses to come forward.
PC Nick Davies, of Police Scotland, said: "This crime is as unusual as it is disappointing to observe.
"The statue is a beloved tourist attraction and is also very popular with Edinburgh's local residents.
"The nose has recently been touched up to restore it following years of wear and at first it was believed the repair had not adhered correctly to the monument.
"However, we are now treating this as an act of vandalism after discovering that an abrasive has been used to remove the material from the repaired area.
"As such, anyone who remembers seeing any suspicious activity around Greyfriars Bobby in the past few days is asked to contact police."
Richard Lewis, Edinburgh City Council's culture and sport convener, said: "The work carried out should have lasted for a number of years and it is highly unlikely that it would have worn away naturally in such a short space of time.
"We will, of course, organise the repair work to be undertaken again and hope that in future people respect the statue of Greyfriars Bobby."