Keiryn Nisbet jailed for life for murdering OAP Ronnie Simpson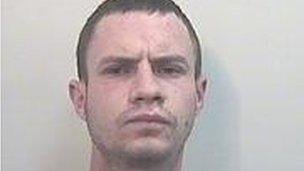 A man who murdered a pensioner in his own home in West Lothian has been jailed for life.
Keiryn Nisbet had denied killing Robert Simpson, 67, known as Ronnie, in Mayfield Drive, Armadale, on 6 October 2012.
Nisbet, 22, was jailed for a minimum of 18 years before being eligible for parole.
Sentencing Nisbet, judge Norman Ritchie QC said: "You are a danger to the public."
He added: "This was a horrific and sustained attack on an old man in his own home."
Nisbet entered the flat of Mr Simpson, who was a complete stranger, and repeatedly punched, kicked and stamped on his head and body.
He also struck Mr Simpson on the head with a blunt instrument and dragged him across the floor of his house.
Mr Simpson received a number of blows to his head, but died as a result of injuries to his body which included fractured ribs.
At the High Court in Glasgow, Judge Ritchie added: "For no known reason you assaulted Mr Simpson. This brutal and senseless attack left Mr Simpson lying dying in the living room of his flat."
Mr Simpson had left his front door unlocked and it is thought Nisbet, who had been drinking for 10 hours and taken heroin and cocaine, may have gone inside thinking it was a former girlfriend's home.
Once inside he subjected Mr Simpson, who was sitting watching television, to the violent attack.
The police were called, but when they arrived they found Mr Simpson's home in darkness and left after seeing no signs of a disturbance.
During that time Nisbet was in the flat with Mr Simpson.
Judge Ritchie told Nisbet: "You did not get help for him. He either died in front of you or you left him to die alone."
Nisbet showed no remorse and later tried to get into a nightclub before heading to a house party.
When questioned by police he denied ever being in Mr Simpson's home, but was caught by forensic evidence as palm and fingerprints were found in the flat, along with footwear impressions, blood and DNA.
Distinctive fibres from a red hooded top he was wearing that evening were also found while CCTV evidence and witnesses also placed him near the scene.
Nisbet, who was on bail at the time, sent a message to a friend on Facebook saying he had attacked a man but could not fully remember what he had done.
He continues to insist he is innocent.
Nicky Patrick, procurator fiscal for High Court cases in the east of Scotland, said: "Keiryn Nisbet subjected Robert Simpson, a quiet and frail man who walked with the aid of a walking stick, to a sustained, vicious and unprovoked attack in his own home."
Det Ch Insp Robert Cowper, of Police Scotland, said: "Keiryn Nisbet did not know Ronnie Simpson and throughout or enquiries we have been unable to establish any possible motive for this violent attack, which resulted in the 67-year-old's death.
"He has proven himself to be a cold and callous individual, who has shown no remorse for his actions and the impact they have had on Mr Simpson's family.
"With Keiryn Nisbet now set to spend a considerable period of time behind bars, I sincerely hope that Mr Simpson's family can put this horrendous ordeal behind them and begin to move on with their lives."
Related Internet Links
The BBC is not responsible for the content of external sites.