Edinburgh Zoo panda Tian Tian 'no longer pregnant'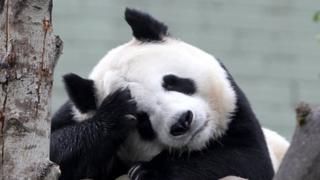 Edinburgh Zoo's female giant panda, Tian Tian, is no longer expecting a cub, it has been announced.
Experts said her hormone and behavioural signs indicated that she had conceived and carried a foetus until late term, but then lost it.
Tian Tian was artificially inseminated in April and had been showing signs of pregnancy for several weeks.
However, the zoo said she had now returned to the eating and behavioural patterns of a non-pregnant panda.
Chris West, chief executive officer for the Royal Zoological Society of Scotland, said: "Such a loss has always been in our minds as a very real possibility, as it occurs in giant pandas as well as many other animals, including humans.
"Our dedicated team of keepers, veterinary staff and many others worked tirelessly to ensure Tian Tian received the best care possible, which included remote observation and closing the panda enclosure to visitors to give her quiet and privacy.
"We are conducting a detailed review of the scientific data collected, but I am totally confident that we did everything it was possible to do."
The panda enclosure will remain closed until the end of the week to give Tian Tian time to get back into her routine and to give her keepers a chance to recuperate.
Keepers insist Tian Tian received the best care possible and remain confident she will eventually give birth.
Mr West added: "The majority of research centres and zoos with giant pandas around the world have not successfully bred until the third or fourth year.
"What we have achieved, considering we have had giant pandas for less than two years, is immense.
"New hormone research is beginning to indicate that lost pregnancies are more common in giant pandas than first thought, though at the moment no-one knows why."
The zoo is renting Tian Tian and male panda Yang Guang from China for around £600,000 a year, hoping a cub or cubs would bring in more visitors.
Some experts believe money spent on captive breeding would be better used to preserve the habitat of wild pandas.