Two Scots private schools maintain at-risk charitable status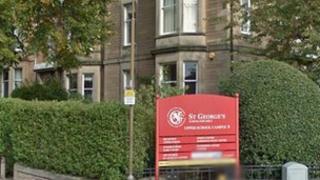 Two top private schools in Edinburgh have maintained charitable status after being told to provide more help for pupils from low income families.
St George's School for Girls and Fettes College in the capital have now passed after being told earlier this year they risked losing their charitable status.
The Scottish Charity Regulator has assessed 31 of the 40 schools it identified for review.
Charitable status exempts schools from millions of pounds in rates and tax.
Establishments which have the status do not pay corporation tax and receive an 80% discount on their rates.
To qualify for the status, bodies must pass the charity test defined in the Charities and Trustee Investment (Scotland) Act 2005.
The test sets out the standard that all charities must meet in providing public benefit.
Where there are conditions on the public gaining access to the benefit, such as fees or charges, charities must demonstrate that they have taken steps to ensure these are not "unduly restrictive".
Anne Everest, headteacher of St George's School, said: "We are delighted with the OSCR's decision that St George's School for Girls, Edinburgh, has now passed the charity test.
"We have worked closely with the OSCR over the last few months so that they now have a full and detailed picture of the public benefit we provide.
"We have also introduced a new constitution for the school and, more crucially, we have increased the number of means-tested bursaries we offer in a measured and sustainable way."