'Robocop' brings down watch thief in Edinburgh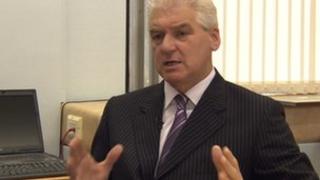 A politician and former detective dubbed "Robocop" has told how he wrestled a suspected watch thief to the ground outside an Edinburgh shop.
Middlesbrough's elected mayor Ray Mallon, 58, put a man in a headlock and held on with the help of two female shop assistants until police arrived.
Officers arrested a man in Frederick Street on Saturday.
Mr Mallon, who was on a day-trip to the Scottish capital, was outside the Laing jewellers when the incident happened.
He said: "I was visiting Edinburgh for the day and enjoying a bit of window shopping.
"I was looking at some watches in the window of a jeweller's shop when I noticed a commotion inside.
"Suddenly a man came sprinting out the door with two assistants chasing after him.
"What happened next was instinctive, it took me back to the old days.
"I stepped across the man and we grabbed hold of each other and wrestled for a few seconds.
"I managed to get him in a headlock and we ended up on the ground."
He added: "The two female assistants showed great courage and deserve a lot of praise.
"The man was shouting and trying to get away but they did a great job helping me to restrain him until police arrived and took him into custody."
Mr Mallon was a senior detective with Cleveland Police and in the 1990s was praised by both Labour and the Tories for pioneering a zero tolerance strategy in Middlesbrough.
He won the Robocop nickname for his no-nonsense approach to crime.