Masked robbers admit attack on shopkeeper in Dunfermline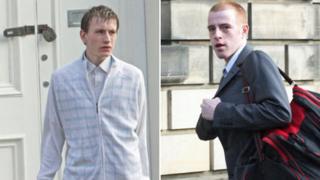 Two thieves have admitted attacking a Fife shopkeeper with a metal bar and machete during a robbery.
Kieran Pearson, 21, and Samuel Craig, 20, assaulted Sakander Riaz during the raid at Omar Groceries in Dunfermline on 29 September last year.
The High Court in Edinburgh heard that the two masked men hit Mr Riaz eight times with the pole and another five times with a machete.
They will be sentenced at the High Court in Perth next month.
Despite sustaining injuries to his right hand and wrist, Mr Riaz fought back, struggled with Pearson and managed to wrestle the machete from him.
He then chased the two thieves, who had stolen some cigarettes and a small sum of money from the shop.
Metal bar
Detectives later arrested the two men after securing DNA evidence from a glove Pearson had left at the scene.
Officers also analysed a metal bar Pearson had dropped while leaving the shop.
Pearson, from High Valleyfield in Fife, and Craig, from Dunfermline, admitted armed robbery and serious assault.
The court heard that Mr Riaz was taken to Ninewells Hospital in Dundee after the attack, having sustained several injuries to his right hand and wrist.
Prosecution lawyer Joanna McDonald said: "Mr Riaz still has no sensation or use of the fingers on his right hand."