Edinburgh bank robber 'makes escape in waiting taxi'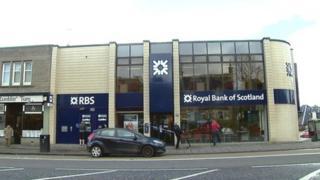 Detectives believe a robber who stole thousands of pounds in a raid on an Edinburgh bank made his getaway in a waiting taxi.
The robbery happened at the Royal Bank of Scotland on St John's Road, in the west of the city, at 09:30.
The man threatened a member of staff and demanded money, which he stashed in an orange plastic bag.
It is then thought he got into a black cab, which headed west. Officers have urged any witnesses to come forward.
Police Scotland said that at no time was a weapon used or seen by staff or customers, but the suspect was still able to make off with thousands of pounds.
He was described as white, in his late 20s to early 30s, 6ft 4ins tall and was wearing a black beanie hat, dark-coloured waist-length jacket and brown trousers.
Det Insp Rory Hamilton, of Police Scotland, said: "We believe the male may have arrived and departed from the scene in the same black cab and we are in the process of speaking to the city's taxi companies as part of our investigation.
"Any drivers who believe they may have taken this man to and from the bank is also asked to get in touch."