Men sought over cash machine robbery in Edinburgh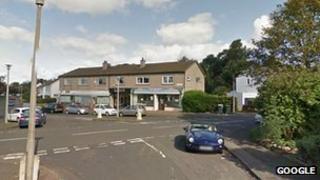 A man was robbed by two thieves at a cash machine in the west of Edinburgh on Sunday evening, police have said.
Police said the 36-year-old man had withdrawn a two-figure sum of cash from the ATM outside the CC Express store on Broomhall Drive.
He then walked to Broomhall Road where he was threatened by a man who demanded he hand over the money.
The victim gave up the money and then returned to the cash machine to withdraw money for a second man.
The second thief had been watching as the man was threatened by the first suspect.
Both thieves then made off in the direction of the Tesco supermarket.
The first man was white, about 30 years old, 5ft 10ins tall, of slim build with a thin face.
He was wearing a black woolly hat, dark jacket, dark trousers and a dark scarf covering the lower half of his face.
The second man was wearing dark clothing and a chunky black woollen hat.
Det Sgt Alan O'Brien said: "The victim was not assaulted or harmed during this incident but was left understandably shaken following the theft of his money."