North Lanarkshire Council to discuss leaving Cosla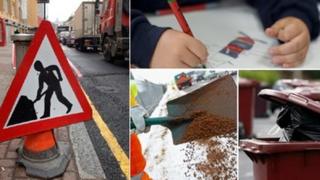 Another large Labour-controlled council is to discuss leaving local government organisation Cosla.
North Lanarkshire Council is to debate the issue on Thursday 27 March.
If it decides it wants to leave, it will be the eighth authority in Scotland to do so and the fifth in the former Strathclyde region.
Other major councils including Glasgow, Aberdeen, South Lanarkshire and Renfrewshire have already said they plan to leave Cosla in 2015.
A spokesman for North Lanarkshire Council said: "Cosla membership will be discussed at a meeting of the full council on 27 March and the council remains a member."
Although there is a Labour majority on North Lanarkshire Council, it is understood there is no clear view among councillors on whether or not to leave, so the outcome of the debate cannot be presumed.
Collective interest
Council leader Jim McCabe is a former Labour group leader in Cosla and has been a strong supporter of the organisation in the past.
Mr McCabe has recently been away from the council recovering from an operation.
Councils that want to leave Cosla have to give a year's notice so none will officially leave until April next year.
Cosla deals with the collective interests of Scottish councils, such as pay and lobbying of central government.
A simmering dispute over just where power should lie within the organisation has come to the boil over the way government money should be divided between councils.
Labour leads 16 of Scotland's 32 councils but power is more subtly balanced within Cosla. This makes it difficult for the local government umbrella body to take a strong line on controversial party political issues.
Some Labour councillors believe Cosla could be doing far more to stand up for local government against Scottish government policies they believe are damaging to their interests.
But SNP councillors generally believe the Scottish government is doing as good a job as it can for them in difficult financial circumstances.
At Cosla's conference last week, President David O'Neill launched a robust defence of the organisation.
Notice period
He noted that Scottish councils get a better deal from the Scottish government than English councils get from Westminster.
Many councils south of the border are not members of the equivalent body in England, the Local Government Association.
However some of Cosla's critics have suggested this is down to the policies of the respective administrations and no reflection on either.
The rules of Cosla mean that any council which wants to leave has to give 12 months notice.
The seven which have already decided to go will leave in April 2015 unless they change their minds.
Apart from North Lanarkshire, it is unlikely that any more will debate Cosla membership in time to give sufficient notice to leave next April. But some others are watching matters closely.
Some believe that Cosla will be seriously undermined without the single largest council in Scotland (Glasgow), several big authorities and about half of Labour-led authorities.
The councils which may leave Cosla are: Aberdeen; Dumfries and Galloway; Renfrewshire; Inverclyde; South Lanarkshire; Glasgow; and West Lothian.