Picasso drawing goes on display at the Scottish National Gallery of Modern Art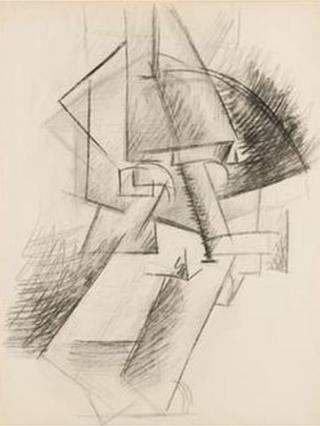 A rare cubist drawing by Pablo Picasso has been bought by the Scottish National Gallery of Modern Art in Edinburgh.
Head, a charcoal drawing bought using money left by Henry and Sula Walton, has gone on display for the first time.
Dating from 1912, it measures 64.9cm x 49.5cm (25in x 19in).
Henry Walton was an Edinburgh University professor of psychiatry. His wife, Dr Sula Wolff, was a consultant child psychiatrist.
Not only did they bequeath their art collection to the gallery, but they also established the Henry and Sula Walton Charitable Fund, specifically to help the Scottish National Gallery of Modern Art make new acquisitions.
The couple were particularly passionate about Picasso's work, assembling a collection of more than a dozen prints by the artist.
Picasso's cubist work dates from about 1907 to 1915.
Picasso was interested in recreating nature by pulling it apart and recomposing it.
'Hugely inventive'
Simon Groom, director of the Gallery of Modern Art, said part of the impetus behind cubism came from the desire to view an object from different sides, and re-compose the different views in a single picture.
He said: "I think Henry and Sula Walton would have been thrilled by this acquisition.
"They were passionate about art, passionate about the gallery, and passionate that the very greatest artworks should be available for our visitors to see."
He added: "This drawing lies right at the start of modern art.
"It is bold, dramatic and hugely inventive, with works such as this Picasso completely re-wrote the rules on art.
"There are comparable drawings in museums in Paris and New York, but nothing like it in any UK public collection.
"I think Henry and Sula would have been proud to change that."
Picasso hoarded huge numbers of his drawings, and on his death in 1973, most of them passed to the French state and in turn became part of the new Musee Picasso in Paris.
Head belonged to Picasso's granddaughter, Marina Picasso, from whom it was purchased by Jan Krugier, one of the world's leading dealers in modern art who kept it for his own collection.
His collection of drawings was offered for sale at a Sotheby's auction in London in February.