Keane Wallis-Bennett death: Tributes paid to wall collapse pupil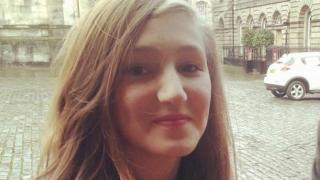 The family of a pupil who died when a wall fell on her at school have described her as their "princess".
They revealed that Keane Wallis-Bennett's ambitions included a dream of becoming prime minister.
Police have officially confirmed that the 12-year-old was fatally injured at Liberton High School in Edinburgh on Tuesday.
Headteacher Stephen Kelly said everyone was "very distressed" at the death of the "excellent pupil".
Keane's mother, Abbie Ann Wallis, 34, was among those who left floral tributes at the school on Wednesday.
In a statement issued through police, the schoolgirl's family said: "Keane will be sadly missed by all her family and friends.
"She was our princess who dreamed of being prime minister. But failing that, a beautician.
"She loved her girlfriends and her days out shopping with lunches and all things girly.
"She recently attended her first under-18s disco and loved every second of it and was excited to be going to see One Direction in concert."
'Excellent pupil'
Keane's headteacher has also spoken of how she will be missed by staff and pupils at the school.
Mr Kelly said: "Keane was a lovely girl, excellent pupil and very popular with our staff and her peers alike.
"She loved sport and she loved contributing to the school generally. She was most recently involved in a project planting flowers around the school."
Mr Kelly said Keane "really cared about the school".
He added: "Everyone is very, very distressed. Our pupils are very distressed, as are the staff and our partners who support us around the school community.
"In the last two days we have been working alongside psychological services in the city of Edinburgh to provide support for those who need it.
"I want to say thank you to the emergency services who were fantastic yesterday, and also to members of the public who have been giving messages of support."
Support
Paul Godzik, a City of Edinburgh councillor and education convener, said everything possible is being done to help those affected by the tragedy.
He said: "Our immediate priority as a council is to support Keane's family and the whole school community.
"I have visited the school today to meet staff and to ensure the immediate and ongoing support they and their pupils require is in place."
He added: "The council is carrying out inspections today in all schools which may have similar walls and, if required, immediate action will be taken."
Education Secretary Mike Russell said every local authority in Scotland will be checking school buildings.
Mr Russell told the BBC that he is "absolutely certain" that is the case.
He said government officials had contacted councils today to discuss the way in which that might be done.
The minister added that he would be "very surprised" if any local authority had not responded to the Edinburgh tragedy in this way.