Harry Potter letters removed from grave in Edinburgh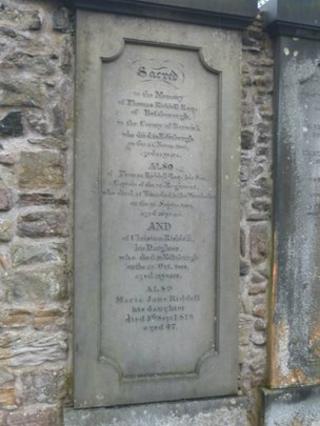 Hundreds of letters have been removed from the Edinburgh grave of a man who shares the name of a Harry Potter character, it has emerged.
Fans of the JK Rowling series have been leaving notes at the graveside of Thomas Riddell in Greyfriers Kirkyard.
In the novels, the character of Lord Voldemort - who is played by Ralph Fiennes in the film - was born Tom Marvolo Riddle.
The council said it had removed the letters out of respect.
An Edinburgh City Council spokeswoman said: "In order to preserve the appearance of this historic graveyard and out of respect to the family, items left by this headstone are regularly removed."
Thomas Riddell, who was a general, died on 24 November 1806 at the age of 72.
It has been reported that his grave could have inspired JK Rowling when she was naming the young Lord Voldemort - although the spelling of the name differs.