Female humpback whales swim to shallows to avoid sexual harassment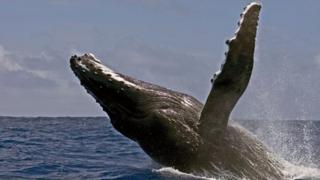 Female humpback whales with calves head for the shallows to avoid sexual harassment, according to a new study.
The researchers said avoiding males helped the females save energy needed for feeding calves, helping them to survive.
The study of humpback whales around the Hawaiian Islands showed females with a calf were often pursued by males in deeper waters.
This meant the mother and calf had to increase their swimming speed by 75%.
However, as water depth decreased so did the number of males following the mother, making females more likely to be found alone with their calves in the shallows.
Unwanted attention
While previous research has shown groups containing a calf tended to be found in shallower waters, the study is the first to systematically investigate whether this is due to mothers avoiding males rather than avoiding predators or seeking calmer waters.
The findings have been published in the scientific journal Behaviour.
Dr Alison Craig, a marine mammal scientist from Edinburgh Napier University, led the study with colleagues Prof Louis Herman and Dr Adam Pack from the University of Hawaii and The Dolphin Institute.
She said: "There are no long-term social bonds between male and female whales, and the males approach lots of females in the hope that they will get the chance to mate.
"Our study suggests that unwanted male attention causes females and calves to increase their swimming speed, so mothers need to supply their calves with more milk to compensate for the extra energy they've used.
Suitable mates
"However, the females don't eat while they're in tropical waters, which means that they need to break down their own blubber to produce milk. Their milk is the only food source for the calves at this time, so you can see why saving energy is so important to females with a young calf.
"It could potentially increase the calf's chances of surviving the migration from the breeding grounds to the feeding grounds."
She said there was no definite explanation as to why males were less likely to pursue humpback mothers into shallower waters, although a reduced chance of finding suitable mates was a possible factor.
Dr Craig said: "Females who don't have newborn calves are more likely to ovulate than new mothers, and these females without calves occur in deeper waters.
"So if males follow mothers into shallower waters they will be less likely to encounter ovulating females and so will have less chance of fathering a calf."