Keane Wallis-Bennett death: Liberton High set to reopen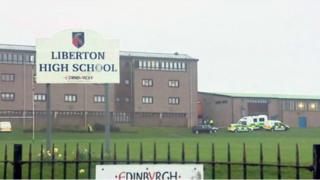 The school where a pupil was killed by a falling wall has been declared safe to reopen after the Easter break.
Edinburgh city council has written to parents at Liberton High reassuring them structural engineers have passed the building as safe.
However, the school's old gym will remain closed for ongoing police investigations.
The funeral of 12-year-old Keane Wallis-Bennett will be held on Thursday.
The letter confirmed to parents that the school would reopen for both staff and pupils on 22 April and that ongoing support from psychologists would continue to be made available them.
Although engineers did not find any structural problems with the school buildings, some work was carried out on the ceilings of the teaching block.
Another survey will be carried out before the school reopens.
The letter also states that police investigations will continue in the old school gym and the school will work with parents and community groups to decide the facilities long-term future.