Mohamed Abdi shooting: Court told of hidden machine gun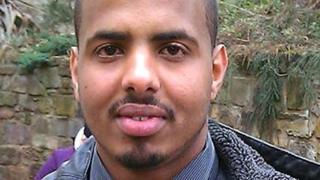 A crime scene examiner has told a murder trial he found an automatic machine gun hidden in undergrowth near where an Edinburgh man was gunned down.
Mark Heron said he found a gun, bullet and blood-stained baseball bat from a crashed car at Abercorn Tennis Club.
Mohamud Mohamud, 30, Ahmed Ahmed, 28, Cadil Huseen, 23, Hussein Ali, 26, Liban Ahmed, 30, Said Fadal, 32, and Said Tarabi, 27, deny all the charges.
It is alleged they shot Mohamed Abdi, 25, after a car chase in May 2013.
The trial, before Lord Turnbull, is taking place at the High Court in Glasgow.
The court heard Mr Heron was called out to the Duddingston area of Edinburgh at 05:00.
Shot three times
He told advocate depute Iain McSporran, prosecuting: "An automatic machine gun could be seen, It was partially obscured by branches and undergrowth."
He told the jurors he photographed it where it was before asking firearms officers to move the weapon.
Earlier the court heard Mr Abdi was shot three times and pathologists said the fatal wound was to his chest.
Mr Abdi's father Oman Abdi, 59, told the court he came from Somalia to Scotland in 1990 and his son and two daughters came over to live with him in Edinburgh in 2011.
Mr Abdi senior, who is a lecturer in Arabic and Somalian, described his son as "a very kind and helpful person to me".
Sub-machine pistol
He revealed that on 3 May 2013 the home he shared with his son in Buchanan Street, Edinburgh, was raided by police who found illicit drugs.
Mr Abdi said he was "shocked" and warned his son.
He added: "I told him anyone involved in this either ended up in jail or being murdered.
"I asked him about the drugs and he said it belonged to his friend."
Mr Abdi said he was in Birmingham the weekend his son died and was contacted by police and told the bad news.
It is alleged the seven accused repeatedly fired a sub-machine pistol and a revolver after a car chase along Duddingston Road West, Willowbrae Road and Abercorn Avenue.
The seven are accused of forcing the car occupied by Mr Abdi, Mohamed Farah and Abdulrakim Abdulrahman to stop by colliding with it and repeatedly shooting at the occupants, murdering Mr Abdi and attempting to murder the other two men.
Mohamud and the others are also accused of assault, of being concerned in the supply of cocaine and firearms charges.
All seven deny all the charges against them.
The trial continues.