Police to search fans for flares ahead of Edinburgh derby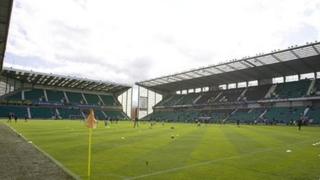 Police have announced a crackdown on fans attempting to carry fireworks into this weekend's Edinburgh derby.
Fans will be searched before they enter the stadium ahead of Sunday's clash between Hibs and Hearts at Easter Road.
Search cordons and a specially trained dog will be used to help identify anybody carrying illegal items into the stadium.
Police have warned that "robust action" will be taken against anybody caught with flares or fireworks.
The warning follows previous incidents at SPFL matches earlier in the season where flares, smoke bombs or fireworks have been set off by fans.
Supt Liz McAinsh, who is in charge of the policing operation on Sunday, said: "We recognise that the majority of supporters are well behaved, however there are a small minority who in the past have put themselves and others in danger by throwing fireworks or flares.
"Anyone who is caught with a flare or firework can expect to be arrested, either at the time, or as a result of a post-match investigation.
She added: "As well as receiving a criminal conviction, they may very well find themselves being banned from attending future matches throughout the country."