Police in violent crime crackdown in Edinburgh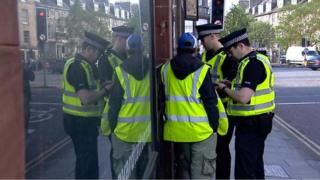 A police crackdown on violent crime will see officers carry out stop-and-searches and high-visibility patrols on the streets of Edinburgh.
Operation Wolf got under way last week resulting in six people being charged in connection with football-related disorder in the capital.
Police teams are now targeting those involved in violent crime, anti-social behaviour, drugs, theft and hate crime.
Police Scotland said the operation addressed local community issues.
Plate recognition
Supt Matt Richards said: "Today, we are out and about on the ground in Leith. We have arrest packages for individuals that have committed crimes thus far, we also have high-visibility patrols and we have automatic number plate recognition cars out trying to catch criminals in their vehicles.
"We will be going into stairs, houses, streets, shops and engaging with the public as they have asked us to through their responses to the police plan."
He added: "We know that the people we are going after today are violent individuals, they have serious and organised crime links and we will bring them to book throughout the course of Operation Wolf and beyond.
"This is about us building that trust with the public, following up on their requests for police presence and ensuring that those that commit crimes in Edinburgh are given no quarter."
Uniformed and plain-clothes officers will take part in various enforcement days this month across the city.