Fife priest Thomas Mullen dismissed over child abuse claims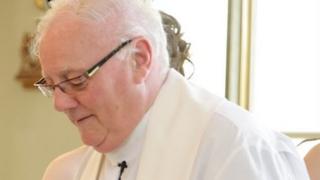 A catholic priest at the centre of child abuse allegations has been dismissed.
The Catholic Church said Thomas Mullen, who was the priest at Our Lady of Lourdes in Dunfermline, Fife, had been found guilty of "canonical offences".
BBC Scotland has spoken to a man, now in his 30s, who claims he was abused by the priest from the age of nine.
Archbishop Leo Cushley said the gravity of the abuse of minors was something which could not go unheeded.
In a letter Archbishop Cushley, of the Archdiocese of St Andrews and Edinburgh, said the diocese was obliged in canon law to continue to look after Thomas Mullen's practical and pastoral needs.
The priest was arrested three years ago following statements from two alleged victims.
Prosecutors attempted to use the Moorov doctrine, a legal mechanism which applies where two or more separate offences are closely connected in time and circumstances, to establish a case.
However, the Crown Office decided they could not proceed using Moorov due to the time lag between the alleged crimes.
The man who claims he suffered sexual abuse from the priest said he was unsure of how to take the news.
He said: "People are telling me I should feel happy and that I've managed to make a change in the church's attitude, but have I?
"No amount of money is going to fix the damage it's (the abuse) caused but I'd like to be able to offer my services to help people who find themselves in the dark place I did."
The Archdiocese of St Andrews and Edinburgh suspended Father Mullen in 2011 while the allegations were investigated by police before ordering a full review into the claims, which were then sent to the Vatican.
Two months ago the Vatican ruled to dismiss Father Mullen. It made the findings public on Sunday when the appeal period had expired.