Edinburgh Queen's Baton Relay route revealed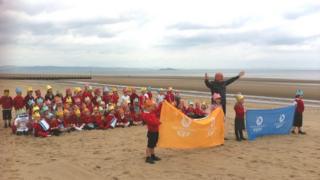 The Queen's Baton will be welcomed by a 21-gun salute and will travel by tram when it arrives in Edinburgh.
The city council and Glasgow 2014 have revealed the 36-mile route the Queen's Baton Relay will take in the Scottish capital on 14 June.
Edinburgh will be the first Scottish city to welcome the baton, which has been travelling around the Commonwealth as a curtain-raiser to the Games.
More than 100 local baton bearers will carry it through the city.
The baton, the Commonwealth Games version of the Olympic torch, contains a message from the Queen, which will be read out at the opening ceremony on 23 July.
'Fantastic opportunity'
Events will start in Edinburgh on the night of 13 June with a concert featuring the Royal Scottish National Orchestra at the Usher Hall.
The following day, the baton will arrive at Heriot-Watt University before it moves on to Murrayfield Stadium.
The baton will board a tram to the city centre, where it will be greeted by a 21-gun salute at Edinburgh Castle to mark the Queen's official birthday.
It will then be carried down the Royal Mile to Holyrood Palace, where a run involving local children will take place.
The next stop will be Meadowbank Stadium, the home of the 1970 and 1986 Commonwealth Games, before the baton is carried through Leith, Portobello and Duddingston.
It will then be received at the Royal Commonwealth Pool, where diving events at the 2014 Games will be held.
The end of the relay will be marked with a concert at the Ross Band Stand.
Councillor Steve Cardownie said: "The relay will be a fantastic opportunity for people to take to the streets to show their support for our baton bearers and celebrate Edinburgh's part to play in the Commonwealth Games.
"As host of the 1970 and 1986 Games, and co-host of this year's diving event at the Royal Commonwealth Pool, it is fitting that the baton will be brought home to Edinburgh - the only city in the world to welcome Commonwealth Games events for a third time."
The Queen's Baton Relay began last October and has travelled through 63 nations and territories of the Commonwealth in Asia, Oceania, Africa, Caribbean, the Americas and Europe.
On 11 May, it arrived back on the British Isles and has been carried in Jersey and Guernsey.
It will now visit the Isle of Man, Northern Ireland, Wales, England and Scotland, where it will be carried by 4,000 baton bearers over 40 days.