World War Two Colditz spy letters to be auctioned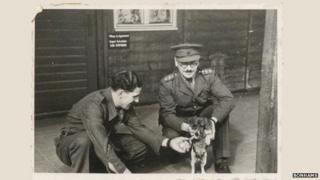 Letters belonging to a British officer who worked as a spy while he was a Prisoner of War are to be auctioned.
Capt Julius Morris Green worked as a spy for MI9 while being held in prisoner of war camps in Word War Two.
The collection consists of 40 autograph coded letters by Capt Green to his family from a period between 1941-1945.
Auctioneers Bonhams expect the letters to fetch about £4,000-£6,000 when the sale is held on 18 June.
Julius Morris Green was born in 1912 and spent his early childhood in Killarney, County Kerry, where his father had a dental practice.
He studied at the Dental School of the Royal College of Surgeons in Edinburgh and was practising in Glasgow when he joined the Territorial Army in 1939, being posted to the 152 (H) Field Ambulance of the 51 Highland Division.
He was captured with his brigade at St Valery in June 1941 and spent the remainder of the war in a series of prisoner of war camps, including a spell in Colditz.
In 1941 he was taught a secret code used to communicate with British intelligence groups and was recruited to work as a spy.
Capt Green proved to be an ideal candidate to work for the wartime British intelligence, his qualification as dentist meant that he spent much of his time travelling from camp to camp, treating patients.
He would send information on what was happening at the camps to the British Directorate of Military Intelligence Section 9 (MI9) hidden in letters to his family.
Capt Green often wrote his letters in a nonsensical broken language style to make sure information got past German censors who read each piece of correspondence before it was allowed to be sent.
The German censors often had a basic grasp of written English, and this meant he was often able to get information through that would have been easily spotted by someone more fluent in English.
British intelligence usually replied to Capt Green through his parents, writing letters reassuring them that he was performing a vital job to the war effort and that he would be ok.
After the war some of Capt Green's letters were donated to the Imperial War Museum in London.