Schoolgirl hit by tram on Princes Street in Edinburgh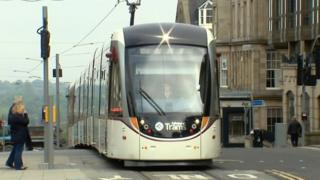 A 14-year-old girl has been struck by a tram while crossing Edinburgh's Princes Street.
The schoolgirl had been standing on the central reservation when she stepped onto the road and was hit.
She indicated she did not want medical attention and was able to walk away from the accident.
A spokesman for Transport for Edinburgh said they were investigating the incident and they had informed the emergency services.
The tram system started taking fare-paying passengers on Saturday, with hundreds queuing to be on the first vehicle leaving the Gyle stop at 05:00.
More than 40,000 tickets were sold over the opening weekend of the new route.