Fire crews called to fire on HMS Queen Elizabeth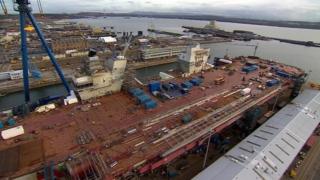 Fire fighters have been called to a fire on board the Queen Elizabeth class aircraft carrier being built at Rosyth.
Fire Scotland confirmed that six appliances were sent to the docks at about 06:37.
It is believed that a small fire had started in one of the vessel's hull compartments.
Fire crews reported only minor damage and gave the all-clear signal at about 08:24.
A spokeswoman for Fire Scotland said that the appliances had been deployed after a column of smoke was spotted rising from the vessel at about 06:30 on Thursday morning.
Fire crews used thermal imaging cameras to identify the exact location of the fire on the ship's hull.
Officers are expected to remain at the scene for the remainder of the day to investigate how the fire started and to ascertain the level of damage caused.
The fire comes ahead of a royal visit to the docks by The Queen who will officially name the carrier HMS Queen Elizabeth on 4 July.
MOD officials confirmed that the naming will be a traditional champagne ceremony.
Later in July, the dock at Rosyth will be flooded to allow HMS Queen Elizabeth to float for the first time.
Sea trials will then begin in 2017 with flight trials of Lightning II aircraft starting the following year.
The 65,000-tonne ship is one of two aircraft carriers being built in one of the biggest defence projects ever undertaken in the UK.
The estimated cost of the aircraft carrier and its sister ship is £6.2bn. The initial projected cost was £3.65bn.
When completed the carriers will become the largest ships ever built by the Royal Navy.
Sections of the vessels are being built by shipyards on the Clyde and Tyne, and at Rosyth, Portsmouth, Birkenhead and Devon.