Edinburgh Festival Fringe: Biggest ever line-up announced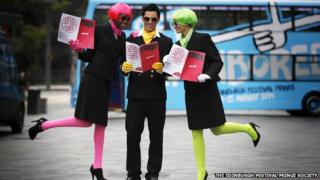 The Edinburgh Festival Fringe line-up has been announced with organisers saying this year's festival will be a "truly unboring experience".
The range of entertainment on offer is the biggest ever, with 49,497 performances of 3,193 shows.
Several new venues will feature in the August extravaganza, to accommodate the larger festival.
A new responsive ticketing method has also been introduced to let visitors create their own calendar of events.
Comedy and theatre shows make up 62% of the acts announced and organisers said the former Dance and Physical Theatre category had been expanded to become Dance, Circus and Physical Theatre.
This was in recognition of the growth and popularity of circus shows over the past couple of years.
As well as ticketed shows there will be 825 free acts during the festival's run with 47 different countries represented.
To accommodate the larger line-up 299 venues will be used across the city, compared to the 273 used in 2013.
Ticketing system
Amongst the new venues is the reopening of La Belle Angèle on Cowgate which hosts the Fringe for the first time since it was devastated by fire in 2002.
The Famous Spiegeltent will be located in St Andrew's Square, alongside Stand in the Square, and a brand new open air stage.
A full list of venues can be found online.
Organisers said the new ticketing system and dedicated apps would allow people to better plan the shows they want to see with the option to build an individual calendar and share reviews of performances.
Ticketing venues have also been increased this year with additional box-offices created at Edinburgh Airport and the French Institute for Scotland.
The Fringe will also see the return of the Glasgow Box Office at Queen Street Station, giving festival-goers the chance to buy and collect tickets before catching a train.
Kath M Mainland, chief executive of The Edinburgh Festival Fringe Society, said: "This programme is the culmination of the creativity and hard work of thousands of people.
"With our eclectic range of shows and uniquely diverse range of voices the Fringe will, as always, be at the centre of things and promises to keep residents and visitors unbored."
Culture Secretary Fiona Hyslop said the Fringe's biggest-ever line-up helped show the strength of culture and arts which can be found in Scotland.
She said: "As we welcome the world in 2014 to see the best that Scotland has to offer, the Edinburgh Festival Fringe will play a crucial role helping to attract visitors from all over the world to see and experience the diverse and extensive range of cultural and creative activity on offer."
This year's festival will run from 1 August to 25 August.