Two men held over assaults on children in Edinburgh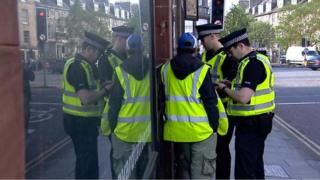 Two men have been arrested and charged in connection with assaults on children as part of a police crackdown on domestic abuse in Edinburgh.
Officers said the men, aged 31 and 47, were held over two separate incidents.
The arrests were among 16 which were made over the last week as part of Operation Wolf.
The others included a 54-year-old man who was charged with stalking, and two 26-year-old men who were charged with sexual offences.
Three other men were arrested in connection with two separate drug discoveries, in Murrayfield Gardens and at a property in Sighthill.
Supt Matt Richards said: "The results this week are another great success for Operation Wolf.
"Domestic violence is a priority under Police Scotland, and this targeted week of action through Operation Wolf sends a message to perpetrators that we will investigate all reports of domestic abuse."