Pair jailed for Edinburgh's Central Mosque bacon attack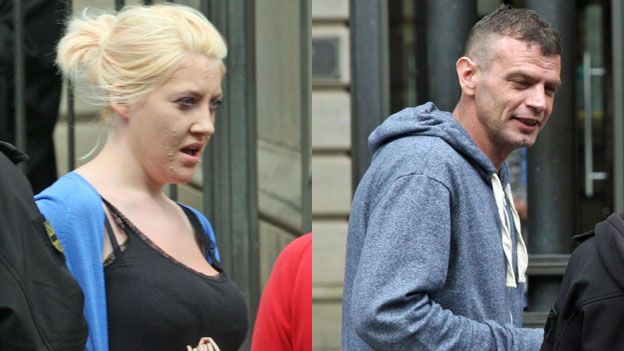 A teenage girl and 39-year old man who desecrated an Edinburgh mosque by attacking it with strips of bacon have both been jailed.
Chelsea Lambie, 18, from Paisley, was sentenced to 12 months and Douglas Cruikshank, from Galashiels, to nine months.
They attached bacon to door handles and threw strips inside Edinburgh's Central Mosque on 31 January 2013.
Cruikshank pled guilty. Lambie was found guilty after denying the charges.
Sheriff Alistair Noble, at Edinburgh Sheriff Court, said: "It does not seem to me there is any way to deal with this case other than by custody."
During an earlier trial, the court heard a Blackberry mobile phone was found in Lambie's clothing when she was arrested at her boyfriend's house.
Messages sent on 31 January included: "Going to invade a mosque, because we can go where we want."
A text to the phone asked: "What you do last night?" The reply was: "Went to the mosque in Edinburgh and wrapped bacon round the door handles, opened the door and threw it in ha ha ha."
Google searches on the phone were for the location of the mosque, addresses for taxis and "Edinburgh mosque bacon search".
A security guard at the mosque told the trial of the offence the bacon would have caused to Muslims.
Usman Mahmood said: "I was surprised if a person did it for a joke. It is against our culture and religion.
"We do not eat pork or even touch it. I felt very bad seeing this meat in my sacred place.
"It hurt my feelings when I saw this meat hanging inside the mosque in the worshipping area. It was very disturbing."
The court heard that during a police interview Lambie had admitted being a member of the Scottish Defence League.
The pair were accused of behaving in a threatening or abusive manner likely to cause fear and alarm.
Cruickshank changed his plea to guilty after racial aggravation was deleted from the indictment.
A third person involved in the attack, Wayne Stilwel from Gorebridge, pled guilty in August 2013 to a religiously aggravated attack on the mosque and was sentenced to 10 months.
Sentencing Lambie, Sheriff Noble said he accepted she was a mother with a very young child, but she had continued to deny her guilt for the offence.
He accepted that Cruikshank had tried for many months to plead guilty and told him that if he had been found guilty at trial he would have sentenced him to 13 months in prison. Given his plea to the amended charge, he reduced that to nine months.
Related Internet Links
The BBC is not responsible for the content of external sites.