Owner appeal after cat survives Fife airgun shooting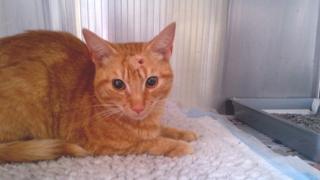 Efforts are being made to trace the owner of a cat found shot in the head with an airgun pellet in Fife.
The injured animal was found by a member of the public in Pilkham Court, Cowdenbeath, on Friday.
The ginger tom cat has been named Chance after the pellet was removed by staff at the Inglis Veterinary Centre.
He is now recovering and receiving care at the Scottish SPCA's Glasgow Rescue and Rehoming Centre in Cardonald.
Animal rescue officer Robert Ward said, "A lady spotted Chance barely able to walk and knew there was something very wrong with him.
"When X-rayed by the vet, Chance was found to have been shot just above his left eye.
"At the moment there is still swelling around his face and we're unsure if he will lose his sight.
"Chance is a very friendly cat and has been neutered so it's likely he has an owner who will be very worried about him.
"Unfortunately, he isn't microchipped so we're hoping whoever he belongs to will come forward."
Chief Superintendent Mike Flynn, of the Scottish SPCA, said, "It's very concerning that this is the second incident this month where a cat has been injured in an airgun attack. We would advise other cat owners in the area to be vigilant.
"Not only was this a very serious and cruel act, it was also an offence which can be punished by a prison sentence and a substantial fine.
"Anyone who thinks it's acceptable to use an airgun in this way has no consideration for the welfare of others and should not be in possession of such a weapon.
"This sickening incident again highlights how important it is that the Scottish government implements the licensing of airguns.
"The new licensing regime would ensure that only those with a lawful reason are allowed to possess such a dangerous weapon. It will also help the police trace anyone using an airgun irresponsibly."