Parade to kick off carnival in Princes Street Gardens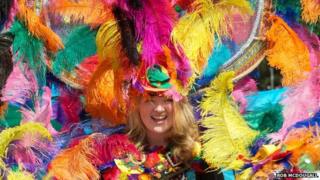 A carnival in Edinburgh's Princes Street Gardens is to start with a parade this year for the first time.
The Edinburgh Festival Carnival replaced the Cavalcade which used to mark the start of festival season in Edinburgh.
In its third year, the free event will now start at the Mound on Sunday 20 July before travelling to the west end and into Princes Street Gardens.
At least 700 performers will take part in the parade which begins at 14:00.
The event is run by the Edinburgh Jazz and Blues Festival.
There will be live music, sequined dancers, feathered costumes, circus performers and street theatre.
The parade, led by Kalentura from the Netherlands, will lead more than 100 drummers, more than 200 international musicians, 150 circus and fire performers and puppets from 17 different countries.
'Buzzing atmosphere'
Performers will then move to Princes Street Gardens for more dancing and singing.
Last year's festival carnival attracted 17,000 people.
Steve Cardownie, Edinburgh City Council's festivals and events champion, said: "Offering live song and dance from hundreds of musicians drawn from all corners of the globe, the Festival Carnival will bring the buzzing atmosphere of Mardi Gras to the streets of Edinburgh.
"This will herald a lively parade and superb day out for the start of the festival season."
Roger Spence, The Edinburgh Jazz and Blues Festival's producer, said: "With the addition of the Festival Parade this year, an ambitious and dramatic kick-off to events and a first for Edinburgh, the carnival is going to be bigger - and even better - on 20 July. We look forward to welcoming residents and visitors."
Princes Street Gardens will host 15 performance areas which will be used for events including face-painting, a circus workshop, dancing, puppets and story-telling.