Parliament passes bill for new Portobello High School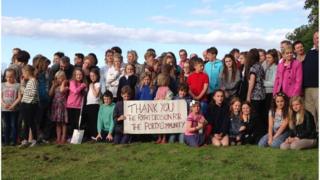 The Scottish parliament has passed a bill to allow a new high school to be built in an Edinburgh public park.
Work on the new £41m Portobello High School in Portobello Park will now go ahead 10 years after it was first proposed.
Some local people opposed the plan because of the resulting loss of green space.
More than 12,000 people took part in a public consultation organised by the City of Edinburgh Council.
It then took out a private bill asking for a change in the law to allow construction to go ahead.
The council has welcomed the Holyrood decision with a replacement for the current 1960s building in Duddingston Road set to be open by August 2016.
'Improved facilities'
Education leader Paul Godzik said: "This decision will be welcomed by the Portobello community.
"The young people of Portobello deserve high quality education facilities.
"I am confident not only that the school community will benefit from our plans, but also that the wider local community will be able to enjoy the improved sports and other facilities."
The Portobello Park Action Group (PPAG) campaigned against the plan and said it threatens the security of all common good land across Scotland.
Spokesman Stephen Hawkins said: "Today is a bleak day for democracy in Scotland.
"MSPs tell us this ruling won't lead to other councils appropriating inalienable common good land, but today's adoption of the bill shows that it can happen. "