Edinburgh recycling to be simplified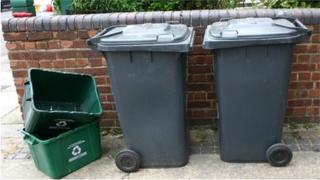 More than 140,000 residents in Edinburgh are set to have their recycling made easier with simplified bin collections.
From September, the types of materials residents are able to recycle will change and bin collections will happen on the same day each week.
Red boxes will be replaced by a wheelie bin and a box.
The new wheelie bin will be for general waste and the current green wheelie bin for mixed recycling.
Blue boxes will still to be used for glass while food and garden recycling will continue as normal and the red box will no longer be needed.
Residents currently have blue, red and grey boxes, along with two wheelie bins.
Landfill costs
Lesley Hinds, Edinburgh City Council's environment convener, said: "We know that this new recycling service can work, as we have seen in other local authorities, and I am confident that the general public want to help us to boost recycling rates as landfill costs continue to increase.
"We will make every effort to help people adjust to the changes, engaging with communities, visiting homes, providing advice and monitoring to find out which households need most support.
"Recycling is something that everyone needs to embrace if Edinburgh is to become a sustainable city, and expanding capacity and simplifying the process for residents is essential for this."
Edinburgh currently recycles almost 40% of its waste but needs to continue to improve if it is to meet a target of 70% by 2025.