Christine De Luca to be Edinburgh Makar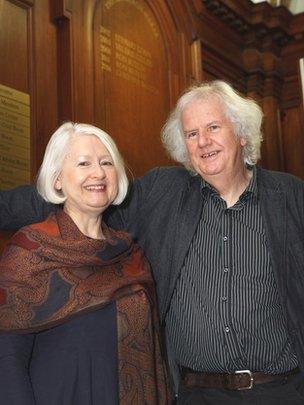 A prize-winning poet who writes in both English and Shetland dialect including elements of old Scots and Norse, has become Edinburgh's new Makar.
Christine De Luca follows in the footsteps of Ron Butlin in becoming Edinburgh's version of the Poet Laureate.
She was inaugurated earlier at a special reception within the City Chambers.
Ms De Luca is the fourth writer to be nominated for the prestigious post.
She was born in Shetland but has lived in Edinburgh since the late 1960s.
An inscription of her name has been added to the Edinburgh Makars' plaque in City Chambers, which also bears the names of the three writers who have held the office to date: Stewart Conn (Makar from 2002 to 2005), Valerie Gillies (Makar from 2005 to 2008) and Ron Butlin (Makar from 2008 to 2011, and reappointed from 2011 to 2014).
The writer is selected and nominated by representatives of the Scottish Poetry Library, Scottish PEN, The Saltire Society, Edinburgh City of Literature Trust and Edinburgh City Council.
Richard Lewis, Edinburgh City Council's culture and sport convener, said: "Christine De Luca is an accomplished and prize-winning poet who writes in both English and Shetland dialect, which includes elements of old Scots and Norse.
"She is the latest addition to an illustrious group of writers who have filled this exciting role over the last decade, each benefiting the city with their talent, and I thank the fantastic Ron Butlin for the passion and spirit he brought to the role.
"Christine is an excellent choice, and I am sure she will inspire a great many people during her term as Edinburgh Makar."
Ms De Luca said: "I feel amazed and apprehensive, 'shaken and stirred'. All three previous Makars have shaped the role and graced it. I just hope I can rise to the challenge."
Ron Butlin said: "Being Edinburgh Makar for the last six years has been a great honour and a real pleasure. I am delighted that Christine de Luca will be my successor. A fine poet and lovely woman, she will be an excellent Makar."
Related Internet Links
The BBC is not responsible for the content of external sites.